Por Alejandro Tagliavini. Publicado el 1/9/19 en: https://www.scmp.com/comment/letters/article/3026757/hong-kongs-trump-card-beijing-and-its-ticket-greater-freedom-citys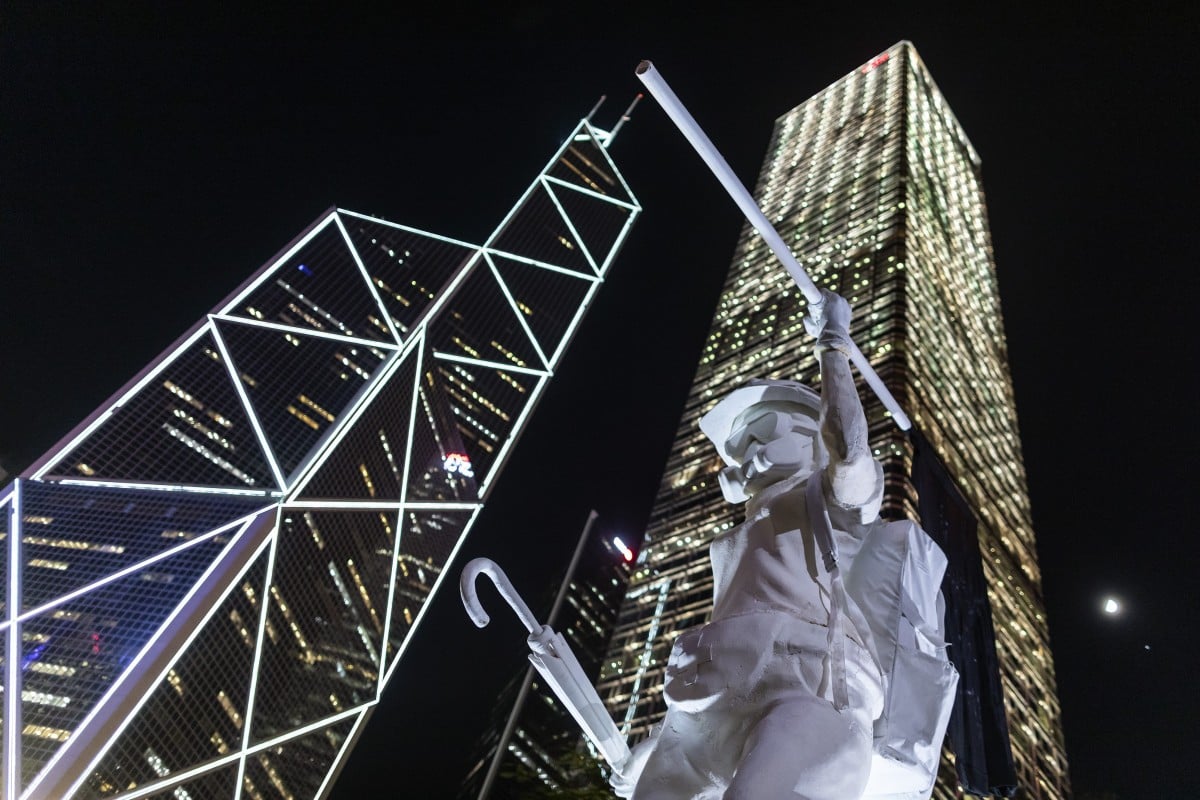 Hong Kong's "Lady Liberty" statue stands in front of the Bank of China Tower (left) and Cheung Kong Center during a rally at Chater Garden in Central on September 6. Photo: Bloomberg
In August, Facebook said it
accounts involved in "coordinated inauthentic behaviour as part of a small network that originated in China and focused on Hong Kong" while Twitter suspended 936 such accounts. Authoritarian regimes always try to intimidate people, so overcoming fear is an important beginning.
However, in 2014, the "umbrella movement" produced no tangible results after 79 days of protests. It was considered a failure; some fell into despair and others emigrated. Why would the new movement succeed where others have failed?
Unlike Macau, Hong Kong enjoys a certain degree of freedom because it still has real power.
Li Ka-shing  
, the richest man in Hong Kong whose fortune is estimated by Forbes at US$28.5 billion, took out several newspaper advertisements calling on people to "stop the anger".
Whether those
advertisements   
 were heartfelt or driven by self-interest, Hong Kong will lose influence if its economy continues to decline, after a contraction of
0.3 per cent  
 in the second quarter.
Give young people a 'way out' of protest crisis, tycoon Li Ka-shing urges
According to Capital Economics, the protests have
dampened  
tourist interest from the mainland. Visitors from the mainland make up 80 per cent of all tourists to Hong Kong and 40 per cent of its retail sales. Mainland visitors' purchases declined between 30 and 50 per cent in July.
In 1997, Hong Kong's economy comprised one-fifth of China's, but now accounts for just 3 per cent. However, Hong Kong remains the gateway to most of the foreign direct investment China receives –
Instead of continuing to demonstrate and provoking repression by Beijing, Hongkongers should wisely expand their economic power to gain more freedom. Without arousing Beijing's fears, Hong Kong should work towards diminishing the state's presence in the economy, deregulating and lowering taxes so that people enrich themselves and gain power.
Alejandro A. Tagliavini es ingeniero graduado de la Universidad de Buenos Aires. Ex Miembro del Consejo Asesor del Center on Global Prosperity, de Oakland, California y fue miembro del Departamento de Política Económica de ESEADE. Síguelo como @alextagliavini